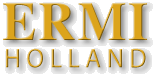 Quality pre-owned machinery for the food, beverage
and packaging industry – worldwide!

Bottling Line
18-58001 - Framax Gravity bottle filling line
1 of used beer bottling line
New : 2012 Speed : 1.920 bph V/Hz : 400V/50Hz.
1 of used Framax bottling line, new 2012, consisting of rotary empty bottle placing table, Enos single-station self-adhesive labeler with hot-stamp coder, Borelli 9-head rinser / 8-head low-vacuum/gravity filler CIAO-xp ...
P.O. Box 377 | NL-8260 AJ Kampen | The Netherlands | Tel.: +31 (0)38 333 70 11 | Fax: +31 (0)38 333 70 12 | E-mail sales@ermi.nl | Disclaimer ©