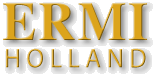 Quality pre-owned machinery for the food, beverage
and packaging industry – worldwide!

Palletizer
23-53001 - AVE ALTA MECCANICHE PABR 50/1
1 of used palletizer
New : 2000
1 of used palletizer, make AVE Alta Meccaniche, type PABR 50/1 (low-level with layer-pad inserter), new 2000. Used to palletize cartons and shrink-wrapped trays. With empty pallet magazin.Modicon controls.
P.O. Box 377 | NL-8260 AJ Kampen | The Netherlands | Tel.: +31 (0)38 333 70 11 | Fax: +31 (0)38 333 70 12 | E-mail sales@ermi.nl | Disclaimer ©