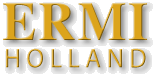 Quality pre-owned machinery for the food, beverage
and packaging industry – worldwide!

Conveyor
Sold - 15-56004 - Ambaflex SV-400-1300 C 3.25 CW
1 of used spiral conveyor

1 of used inclining spiral conveyor, make Ambaflex, type Spiralveyor SV-400-1300 C 3.25 CW. Chain width 400 mm, chain center distance 1.300 mm, configuration C (90-degrees outfeed), 3.25 windings, operates clockwise. Inf...
P.O. Box 377 | NL-8260 AJ Kampen | The Netherlands | Tel.: +31 (0)38 333 70 11 | Fax: +31 (0)38 333 70 12 | E-mail sales@ermi.nl | Disclaimer ©